Women's Football Update - November 9th, 2016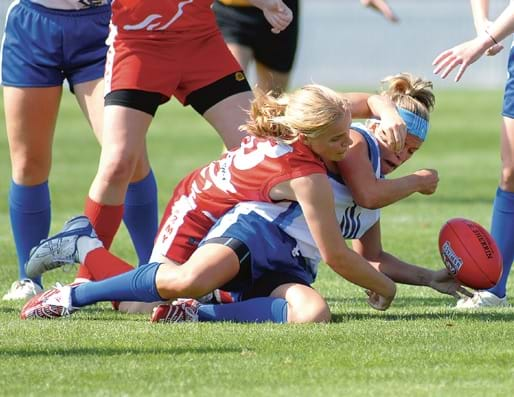 CGFC Women's Football Information & Registration Night.
We will hold an Information and Registration Night on December 5th at 6pm at the Lindsay Thompson Centre where we you will be welcomed by CGFC President Peter Small and introduced to the coaches Guy Nelson and Finn McEvoy.
There will be a brief training session that night with footballs so please come in your sports gear.
We have prepared a Frequently Asked Questions paper that should answer most if not all the questions you have in mind.
We will also have sample uniforms including football jumpers, shorts as well as training tops so you can work out your size before we place the orders. All the gear will be made especially for women by official suppliers.
Please try to get to this event. If you will be away or unable to make it for any other reason can you please confirm with me that you are committed and we will work out a way to get you registered.
Survey Results
Thanks for completing the survey on your preferences for game days and times. Thought you might be interested in the results. The key points were:
The split between the preferred day was very even between the three choices of Saturdays, Sundays and either.
There was a very small number who thought it might be difficult for them to play on Sundays and again an almost identical number said the same thing about Saturdays.
70% of respondents thought the teams should be graded on ability whilst 30% said they should be split randomly.
40% of respondents were at CGS in 2016 or 2015 with the others spread over previous years going back to 2011.
We have provided this feedback to VAFA and all the other clubs are doing the same. VAFA will take all this into account as it works out how to best accommodate the views of the clubs whilst dealing with challenges like ground availability.
The feedback suggests you are generally open minded about what the competition might look like which is good as everyone will to be flexible in this first year as the competition gets off the ground.
Minimum Age Requirement
Unfortunately our survey only gave you the option of attending CGS in 2016, earlier years or "Never attended CGS". It seems some of you may still be at CGS in Years 11, 10 and also 9. VAFA have set the age of 16 (as at 1st January 2017) as the minimum age requirement to be able to play in the competition.
We have some players who will not be over 16 by this date. If you are in this category please let me know ASAP as we are trying to get VAFA to be a bit lenient on this rule.
Player Numbers.
We currently have 43 players registered which is fantastic. If we are to form 2 teams we will probably need to get the numbers up closer to 60 so if you know anyone who would like to play please ask them to register on the CGFC website.
We also have a number of people who have indicated they want to help the team but in non-playing role. The support we are receiving is very encouraging but we can always do with more helpers. Please ask you parents, siblings and friends to think about how they might get involved and feel free to talk to Guy Nelson or me.
Facebook Page
Amy Dumas and Corrina Pellegrino have set up a CGFC Women's Footy FB page so you have not joined please message Amy or Corrina.
Follow CGFC
Please follow all the news on CGFC's website https://www.cgfc.com.au as well as Facebook, Twitter & Instagram
If you have any queries or feedback please email me at nslonim@optusnet.com.au.
Looking forward to seeing everyone on December 5th.
Regards
Neil Slonim
CGFC Women's Football Manager