Update - December 20th, 2016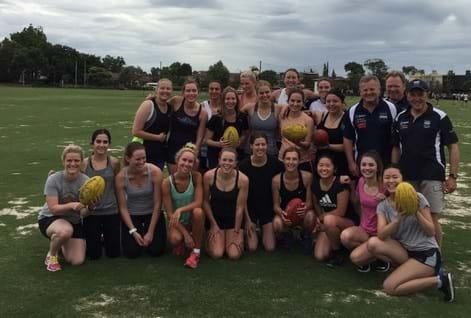 22 players turned out for a lively last training session before the Christmas break. In our three pre-Xmas sessions 29 players have attended at least once and our the improvement over this period has been remarkable. The level of enthusiasm and camaraderie is fantastic and this venture promises to be an exciting ride for all involved.
Shona MacInness the VAFA Women's Football Manager came to training and spoke to the squad. Shona was most impressed with where we are at noting that off and on field we were very well positioned relative to the 30 other clubs in the new competition.
There is a players Facebook page and if you are not part of this please contact Corrina Pellegrino 0401 516 178 on or Amy Dumas on 0448 310 111
Please take on board the Coach's expectations for training over the summer period - They are: Three activity sessions per week - mon/wed/fri - either gym or 2km run and shuttle runs (in out sprints). The coach is keen to see you fit in early february when training recommences . If you have any queries on this please feel free to contact Guy on 0404 046 173.
If you have not yet been able to make it to training please come down when we re-commence. You will be a bit behind the other girls but you will find footy is pretty easy to pick up once you get the basics.
Guy, Robert, Pete Small, myself and all the officials at CGFC wish you and your families a very Merry Christmas and a Happy New Year. If you are travelling have a great time but come home to your families and us safely. We cant wait to get back into footy in the New Year and we'll send out a reminder email in mid January.
Best regards
Neil Slonim
CGFC Women's Football Manager