Seniors match Report:
ROUND 6
CAULFIELD GRAMMARIANS vs old scotch
ROUND 6 - SATURDAY may 18 - 2.00PM - CAULFIELD GRAMMARIANS OLD SCOTCH - GLENHUNTLY OVAL, NORTH CAULFIELD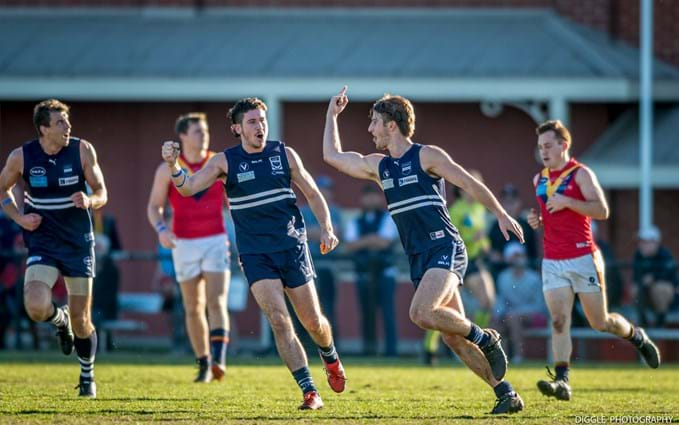 Match Report:
By Tommy Flanagan
Caulfield have claimed top spot and remain unbeaten after the first six rounds of the 2019 Premier B season after a resounding 69-point win in Saturday's top-of-the-table clash against Old Scotch.
The Fields were unstoppable, applying immense pressure and booting the opening five goals of the match to build a lead which was never threatened.
Scotch attempts to turn the tide were consistently quelled by the relentless Fields, the Cardinals seldom allowed any time or space with ball in hand and rarely found opportunities to hit the scoreboard.
Caulfield's midfield consistently outworked the Cardinals on-ballers throughout the contest.
Will Edwards was magnificent and once again was named as the best player on ground in the post-match, he was well supported by outstanding performances from fellow midfielders Theo Thompson, Nick Baltas, Jack Wallace, Will Barker and Jack Webster.
Baltas also showed his class forward of centre with three telling goals.
Nullifying the influence of Cardinals ruckman and former GWS Giants listed player Tom Downie was imperative and despite winning his fair share of hitouts he was negated around the ground by the determined efforts of Jared Risol, Isaac Morrisby and Ben Price who collectively shared the responsibility for limiting his impact.
They were well complimented by an organised back six; Tate Short, Lachie Harris, Finn McEvoy, Joe McClelland and Nathan Peterson all executed their roles with thoroughness and discipline.
Keegan Stewart and Julian Dobosz proved to be too powerful for the Cardinals' defence, their presence was enormous in the forward third of the ground and between the pair booted nine goals.
Stewart played his best game of the year to date, regularly clunking massive grabs and had the kicking boots on to end up with five goals straight.
Dobosz picked up where he left off last weekend and was a class above, booting four brilliant goals to add to his seven in the previous match against Beaumaris.
Debutant Lachy Stephens was also impressive, the first-gamer's consistently clean hands were another highlight of the day as he seamlessly integrated himself into the senior side.
Stephens' teammates along with the sizeable home crowd at Glenhuntly were in raptures following the Under 19's star's first goal in senior footy.
Next weekend the Fields travel to Parkdale and will be looking to continue the strong early season form and strive for a seventh-consecutive win.
Score:
Caulfield Grammarians 16 - 13 - 109 defeated Old Scotch 6 - 4 - 40
CGFC GOALKICKERS:


K. Stewart 5
J. Dobosz 4
N. Baltas 3
N. Page
T. Green
J. Wallace
T. Short

CGFC BEST PLAYERS:


W. Edwards
T. Thompson
J. Risol
T. Short
J. Webster
L. Harris

Click here for photo gallery