Seniors match Report:
ROUND 5
BEAUMARIS vs CAULFIELD GRAMMARIANS
ROUND 5 - SATURDAY may 11 - 2.00PM - BEAUMARIS vs CAULFIELD GRAMMARIANS at banksia reserve, beaumaris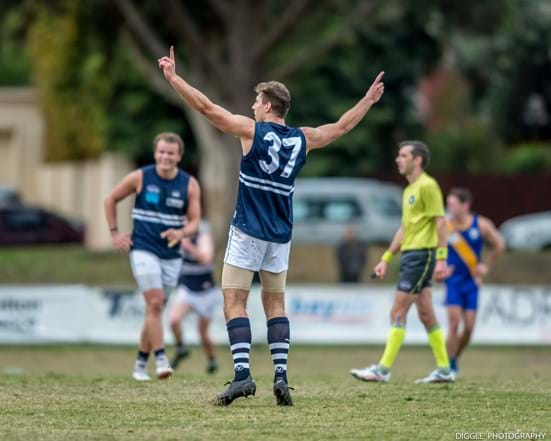 Match Report:
Caulfield have recorded their fifth consecutive win and remain unbeaten after the opening five rounds of the 2019 Premier B season after an 82-point demolition of Beaumaris at Banksia Reserve on Saturday afternoon.
Debutant Julian Dobosz booted seven goals in a dominant performance at full forward and Will Osborn was outstanding in his 150th game for the Fields.
The script couldn't have been written any better with Osborn booting the first goal of the day in the opening minute and Dobosz following that with the Fields' second goal moments later.
Beaumaris were able to swing the momentum towards the end of the first term and then again at the start of the second, booting three goals either side of the quarter time break.
They kicked their third goal at the eleven-minute mark of the second term to trail by a goal and the game was seemingly in the balance.
Thereafter the Fields turned it on and kicked thirteen goals to none for the remainder of the match, overpowering the young Sharks side with combative consistency, power running and slick ball movement..
Having awaited a clearance from North Shore and being forced to sit on the sidelines during the first four rounds, Dobosz was raring to go and unfortunately for the Beaumaris back six they were on the receiving end of a powerful aerial display and goal kicking clinic from the big man who kicked three goals in the first term, two in the second and two in the third as he proved to be the major difference in the contest.
Keegan Stewart, Jared Risol and Isaac Morrisby also proved to be too big and strong for the Sharks' youngsters, all three were consistently physical in the air throughout the day.
Milestone man Osborn led the charge in the middle of the ground and was well supported by Will Edwards, Jack Wallace, Theo Thompson, Nathan Page, Jesse Toniolo and Will Barker in what was a comprehensive display from the Fields' midfield.
Lachie Harris, Jack Webster and Finn McEvoy all played starring roles in the defensive half and were rarely troubled, calmly controlling the back end from start to finish.
Next Saturday the Fields are back at home and will face the also undefeated Old Scotch in what promises to be an epic top-of-the-table clash.
Score:
Caulfield Grammarians 18 - 16 - 114 defeated Beaumaris 3 - 14 - 32