Seniors match Report:
ROUND 4
CAULFIELD GRAMMARIANS vs university blacks
ROUND 4 - SATURDAY may 4 - 2.00PM - CAULFIELD GRAMMARIANS vs UNIVERSITY BLACKS -
GLENHUNTLY OVAL, NORTH CAULFIELD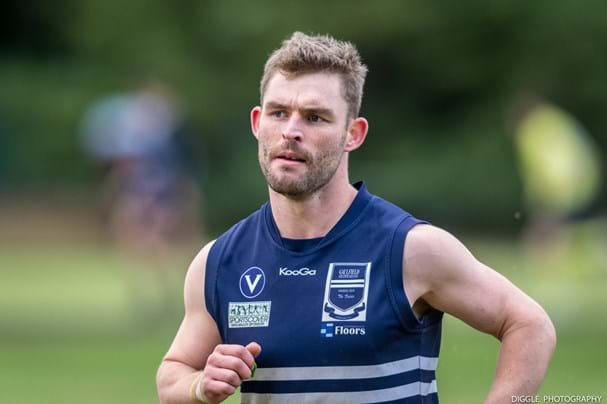 Match Report:
By Tommy Flanagan
Caulfield Grammarians have recorded a stirring come-from-behind win against Uni Blacks on Saturday to remain undefeated in the 2019 Premier B season.
The match seemed to be getting away from Caulfield as the final quarter commenced after Blacks booted the last four goals of the third term to lead by 15 points at the final change, but a four goal to one final term saw the Fields home by eight points in a nailbiter at Glenhuntly.
Tom Green who was outstanding throughout the day booted two crucial goals in the frantic last quarter to surge the Fields back into the contest.
An opportunistic snap from Will Barker brought the margin within a goal with less than ten minutes to play before Jared Risol's high-flying ruck tap from a forward fifty stoppage found a bursting Theo Thompson who roved and goaled on the run to seal the win for the Fields.
In slippery conditions with rain pelting down throughout the day the match was always never going to be one for the faint-hearted and the hard-nosed Will Edwards was again prolific in the middle, consistently working over the Uni Blacks on-ballers to collect a glut of contested possessions and earn the best on ground award in the post-match.
Edwards, Risol, Barker, Thompson and Green were all outstanding contributors to the win.
Others to impress were big man Keegan Stewart and opportunistic forward Nathan Page who each booted two goals along with defenders Nathan Peterson, Jack Woodman and Finn McEvoy who had to deal with plenty of incoming ball but consistently had it under control.
Next week the Fields travel to Beaumaris who will be looking to bounce back after losing to Parkdale.
Fields star Harry Schaffer spoke to media post-match about the challenge that lies ahead next Saturday, "we always have to be cautious of them but I think if we play our best footy we'll definitely be up there with a chance".
Score:
Caulfield Grammarians 10 - 16- 76 defeated University Blacks 10 - 8 - 68
CGFC GOALKICKERS:


K. Stewart 2
T. Green 2
N. Page 2
W. Barker
H. Schaffer
W. Osborn
T. Thompson

CGFC BEST PLAYERS:


W. Edwards,

T. Thompson,

N. Peterson

W. Barker

J. Woodman

J. Risol

Click here for photo gallery