ROUND 3 - SATURDAY APRIL 27 - 2.00PM - FITZROY vs CAULFIELD GRAMMARIANS -
Brunswick St Oval , fitzroy
Seniors match Report:
ROUND 3
FITZROY vs CAULFIELD GRAMMARIANS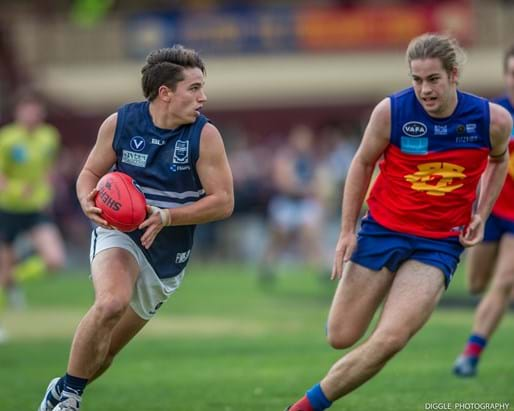 By Tommy Flanagan
Caulfield have recorded their third consecutive win and remain unbeaten after the opening three rounds of the 2019 Premier B season after defeating Fitzroy by 40 points at Brunswick Street Oval on Saturday afternoon.
After a hotly-contested start to the match the Fields showed great resolve to eventually break clear of a combative Roys outfit.
In a physical opening term Fitzroy were intent on limiting Caulfield's run and carry and forcing a congested struggle, the Roys capitalised on their forward half opportunities to lead by seven points at quarter time.
Despite Fitzroy's determination to maintain a congested arm-wrestle, Caulfield responded in the second quarter, the Fields finding ways to create bursts of brilliance forward of centre with Nick Baltas and Theo Thompson breaking the game open on the brink of half time with a succession of classy long-range goals.
Caulfield kicked six goals to zero to lead by 33 points at the main break, a margin which wouldn't fluctuate heavily for the remainder of the match.
Fitzroy attempted to mount a comeback in the third term but the Fields took control of the tempo of the game and were able to take the sting out of the contest.
Lachie Harris (pictured) was named best on ground in the post-match, his run and carry, decision-making under pressure and pinpoint ball-use were highlights of his consistent four-quarter performance across half back.
Will Edwards again led from the front with a powerful display in the middle of the ground, his persistence to continually outmuscle the Fitzroy on-ball brigade was pivotal to the Fields being able to take full control of the contest in the second half.
Will Barker's composure was vital during the heated first half and Charlie Logan was impressive on his return to the senior side.
Chris Diggle and Nathan Peterson had plenty of incoming ball to deal with in the back half, but remained unflustered, both executing well-rounded defensive performances.
The Fields sit in second place on the Premier B ladder and next week will face the third-placed Uni Blacks at Glenhuntly.
Score:
Caulfield Grammarians 13 - 14 - 92 defeated Fitzroy 07 - 10 - 52
CGFC GOALKICKERS:


T. Thompson 3
N. Baltas 2
W. Barker 2
T. Green
I. Morrisby
J. Wallace
W. Osborn
C. Diggle
C. Logan

CGFC BEST PLAYERS:


L. Harris
W. Edwards
C. Diggle
W. Barker
T. Thompson
D. Reilly

Click here for photo gallery