Seniors match Report:
ROUND 2 -
ST BEDES/MENTONE TIGERS vs CAULFIELD GRAMMARIANS
ROUND 2 - SATURDAY APRIL 13 - 2.00PM - ST BEDES/MENTONE TIGERS vs CAULFIELD GRAMMARIANS -
Brindisi St Oval , MENTONE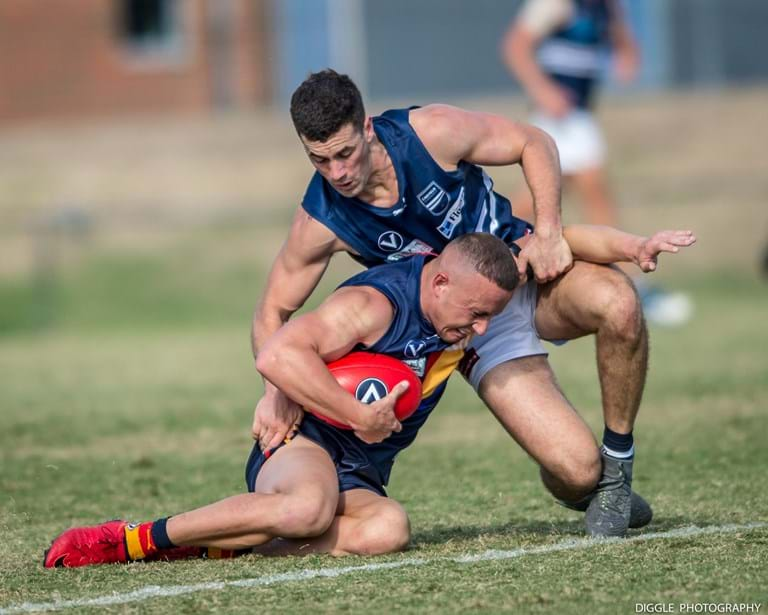 By Tommy Flanagan
Caulfield have continued their strong start to the 2019 Premier B season with another dominant performance, crushing the St Bedes-Mentone Tigers by 74 points in an overpowering display of class and physicality.
Returning to Premier B this year after being relegated from William Buck Premier at the end of 2018, St Bedes promised to be an opponent to be wary of, but Caulfield were too switched on for the Tigers in the first half, holding them goalless and piling on 21 scoring shots before the main break.
Caulfield's midfielders consistently outnumbered the Tigers at the contest and were able to link up with composed and precise ball-use on the outside. The pressure applied to St Bedes throughout the day was immense and only inaccuracy in front of goal prevented the margin blowing out to a more sizeable one.
Declan Reilly on his return to the senior side asserted his dominance against the St Bedes talls and showed why he is such a highly-valued member at the Fields with a best-on-ground performance.
Will Edwards played the consummate inside midfielder's game, putting on a masterclass at the coalface and then following up to create efficient link-up play to connect the midfield to the forward third.
The twin-towers in the forward half - Jared Risol and Keegan Stewart - both proved to be far too difficult to handle for St Bedes, their aerial work unsettled the Tigers' back six and created opportunities at ground level for goalsneak Jesse Toniolo, who continued his strong early-season form and kicked two goals, adding to his three in Round 1 in the win over Old Haileybury.
Will Barker and Will Osborn both turned it on again, their craftiness through the middle opened up St Bedes consistently throughout the day, and reigning best and fairest winner Jack Wallace was in everything, consistently stamping his influence on the match and booting four goals.
Chris Diggle's expert ball use across half back was impressive and he along with the rest of the back six put in another rock-solid performance, operating with calmness, determination and proficiency.
The Fields now have a week off to prepare for our Round 3 clash in which we will be aiming to go three from three against Fitzroy at Brunswick Street Oval.
Score:
Caulfield Grammarians 14 - 22 - 106 defeated St Bedes/Mentone Tigers 4 - 8 - 32
CGFC GOALKICKERS:


J Wallace 4
W Barker 2
J Toniolo 2
T Short 2
T Green
W Osborn
D Reilly
I Morrisby

CGFC BEST PLAYERS:


D Reilly
W Edwards
W Barker
J Wallace
J Risol
C Diggle

Click here for photo gallery