Seniors match Report:
ROUND 1 -
CAULFIELD GRAMMARIANS vs old HAILEYBURIANS
ROUND 1 - SATURDAY APRIL 06 - 2.00PM - CAULFIELD GRAMMARIANS VS old HAILEYBURIANS - GLENHUNTLY OVAL, North CAULFIELD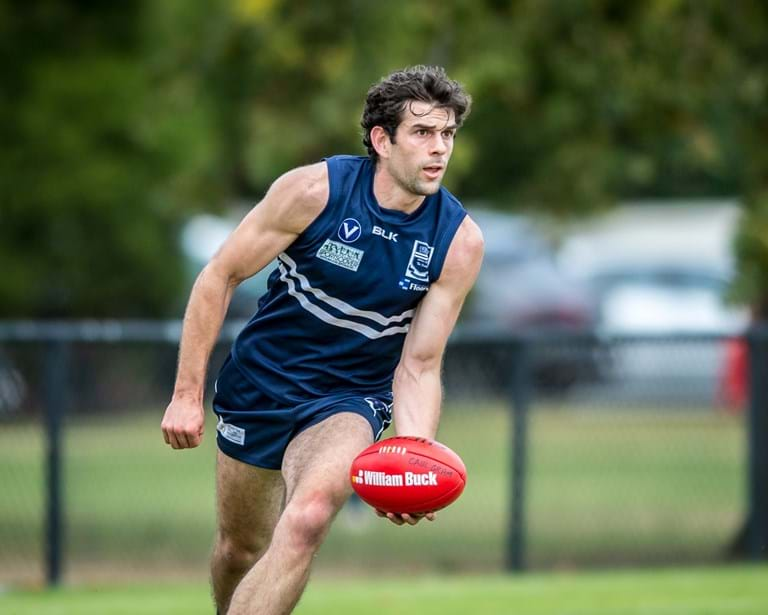 By Tommy Flanagan

The Fields' Senior Men's team commenced the 2019 VAFA season in style on Saturday with an impressive 89-point victory against Old Haileybury.
The first quarter was an arm-wrestle with Old Haileybury applying a high level of pressure and limiting Caulfield's scoring opportunities but as the game developed the Fields found their touch and gained momentum.
The longer the game wore on the slicker Caulfield became and the quicker the margin increased, the Fields booted 13 goals to five after half time and the final score was indicative of the comprehensive performance it was.
Isaac Morrisby starred on debut and was named as the best player on the ground in the post-match, his strong overhead marking and combative ruckwork was excellent and he proved to be consistently influential in all three thirds of the ground.
Other debutants Jesse Toniolo, Jared Risol, Jack Webster, Nathan Peterson and Will Edwards also impressed.
The engine room of Edwards and Jack Wallace had a profound influence, their grunt work in the middle, combined with the calmness and creativity under pressure from Will Barker and the run and carry of Theo Thompson (pictured) proved too difficult for Old Haileybury to handle.
Tate Short was everywhere, consistently driving the Fields from the half back line and following up to be involved in forward forays.
Tom Small's composure and leadership in defence stood out and he was well complimented by Jordan Stewart, Chris Diggle, Tom Smith and Finn McEvoy who all limited their direct opponents and together showed they are an organised and well-drilled defensive unit.
Classy forwards Nathan Page, Will Osborn, Tom Green and debutant Toniolo were lively in the front half, booting thirteen goals between them and exciting the sizable crowd at Glenhuntly.
Caulfield sit second on the ladder after the first round and this Saturday face off against the fourth-placed St Bedes-Mentone Tigers who join the Premier B competition this year after being relegated from William Buck Premier at the end of the 2018 VAFA season.
The Tigers accounted for the Parkdale Vultures last Saturday and Fields coach Simon Williams is wary of their capabilities, "I think this is the biggest test we've had for a little while; they've come from A-grade, it's a small ground, they have Billy Hartung from AFL so it will be a good chance for the boys to test themselves against one of the best."
Score:
Caulfield 22 - 16 - 148 defeated Old Haileyburians 9– 5 – 59
CGFC GOALKICKERS:


Nathan Page 4
Jesse Toniolo 3
Will Osborn 3
Tom Green 3
Will Barker 2
Keegan Stewart 2
Chris Diggle
Isaac Morrisby
Sam Dorevitch

CGFC BEST PLAYERS:


Isaac Morrisby
Tate Short
Will Barker
Tom Small
Jesse Toniolo
Chris Diggle

Click here for photo gallery