women's RESERVES match Report:
ROUND 3
CAULFIELD GRAMMARIANS VS old XAVERIANS
ROUND 3 - SATURDAY april 27- 9.20AM - CAULFIELD GRAMMARIANS VS OLD XAVERiaNS - GLENHUNTLY OVAL, NORTH CAULFIELD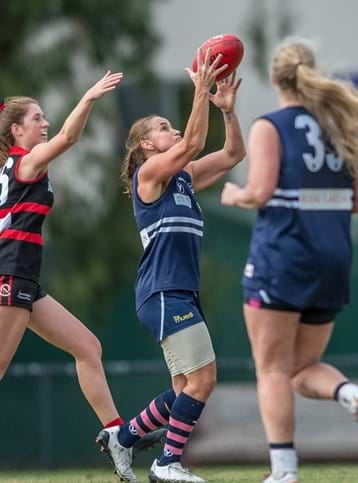 By Joselle Bardwell
Coming off a disappointing 37 point loss to Old Camberwell Grammarians last week, CGFCW Reserves were unable to redeem themselves against an explosive Old Xaverians side, losing by 25 points.
Xavs were quick to get the jump on the slow-starting Fields in the first quarter, using their speed and tackling to keep the ball locked in their forward half. New found centre halfback Andrea 'Six-Pack' Mills was forced off the field after a crunching tackle in which she broke two ribs.
First year player Soph McKinley was stellar in her absence, consistently reading the flight of the ball superbly throughout the match, and Kelly Cosgrave was hard at the ball as always.
Caulfield lifted after quarter time, eventually getting onto the scoreboard thanks to a quick snap from the goal square from Cosgrave in the second quarter.
While the Fields were able to match Old Xav's intensity, this unfortunately did not reflect on the scoreboard.
Ruby 'Tippa' Hong and Belle Connor were valiant in the midfield as always, while defensive efforts from Erin 'Doc' Howells and Bridget Sung down back kept Xavs scoreless in the last quarter.
Special congratulations to Cat Potgeiter on kicking her first goal in footy in the last quarter.
The Reserves will be looking to continue their last quarter efforts against top-of-the-ladder Old Geelong at Como Park next week.
Score:
Caulfield Grammarians 2-1-13 defeated by Old Xaverians 5-8-38
CGFC GOALKICKERS:

K. Cosgrave
C. Potgieter

CGFC BEST PLAYERS:


K. Cosgrave
R. Hong
B. Connor
S. McKinley
C. Hart
G. Slonim

Click here for photo gallery