women's RESERVES match Report:
ROUND 2
CAULFIELD GRAMMARIANS VS old camberwell grammarians
ROUND 2 - SATURDAY april 13 - 9.20AM - CAULFIELD GRAMMARIANS VS OLD CAMBERWELL GRAMMARiaNS - GLENHUNTLY OVAL, NORTH CAULFIELD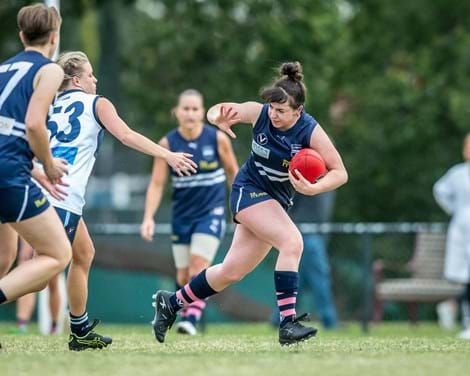 By Sam Tonkin

Coming off a big win last week, the CGFCW Ressies were looking to make it two from two, while Old Camberwell were looking for redemption after losing last week to Old Collegians.
The game got off to a slow start, with Caulfield only managing to score two behinds to Camberwell's single goal. Lou Cosgrave starred early with unrelenting pressure and numerous heavy tackles despite her small stature.
Darci 'Sooks' Welsh starred in the second quarter, with non-stop run-and-carry through the midfield, and a spectacular overhead mark on top of the forward fifty.
Unfortunately, Camberwell's strong defence only allowed a single Caulfield behind for the quarter, while scoring 1.1 themselves.
Star ruck Kelly Cosgrave came off early with injury, not to be seen for the rest of the day, leaving Sigrid 'Mama' Pitkin, Elise Di Sipio, and newcomer Tegan Sacha to cover the ground for the rest of the match.
The third was another low scoring affair, with sisters Abbie 'Sauce' and Emma 'Rowdy' Hants sweeping defensively through the middle and backline, respectively. Their pressure prevented the score from blowing out further during the quarter.
Old Camberwell started the last with a bang, kicking three unanswered goals and a couple of behinds.
The quick start was too much for the Fields, who were unable to match their ball movement and conversion rate.
With their heads held high, the Ressies have a few tough lessons to take into the next game against Old Xavs, who are coming off a 100-point win over RMIT WFA.
Score:
Caulfield Grammarians 0 - 4 - 4 defeated by Old Camberwell Grammarians 6 - 5 - 41