Vale-John Evans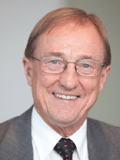 The Caulfield Grammarians Football Club is saddened to advise of the sudden death of the immediate past President of Caulfield Grammar School Council, Mr John Evans on Saturday morning. John unexpectedly became ill on Wednesday evening.
John retired from the School Council in May 2016 after over 40 years as a member of Council which included him serving as President from 2002 to 2016. John was a long time supporter of the club, as a committee member and particularly through his roles as Chairman of the School Council and President of the Caulfield Grammarians Association.
John was a student of Caulfield Grammar School from 1949 to 1961. Upon leaving he went on to study a Bachelor of Laws (LLB) at University of Melbourne, then graduated with a Master's degree in Law from Monash University. Law was to be his pathway.
Being active in past student activities, John took on official roles within the alumni body, the Caulfield Grammarians' Association (CGA). In 1972, he became Treasurer of the Caulfield Grammarians' Football Club, then proceeded with roles in the CGA including Secretary, Senior Vice-President then President in 1975, a position he held for two years. He then joined the School Council in an ex-officio capacity as President of the Caulfield Grammarians' Association in 1975. When he reached the end of his term he was asked to remain on the School Council and assumed the role of the School's legal adviser.
The considerable contribution made to Caulfield Grammar School community by John can never be underestimated. His leadership, professional expertise, unwavering support, passion, commitment and dedication have been immense and greatly across the community.
The Caulfield Grammar School community will be forever grateful to John who gave so generously of his professional expertise and wisdom. His passion, enthusiasm and commitment for all things Caulfield Grammar School were legendary and his legacy will continue now and well into the future.
John will be remembered with great fondness, respect and admiration from all at the Caulfield Grammarians Football Club.
Our sincere and heartfelt sympathy is extended to Rosemary, David and Robert.
Vale John.