Peter Small Addresses The Club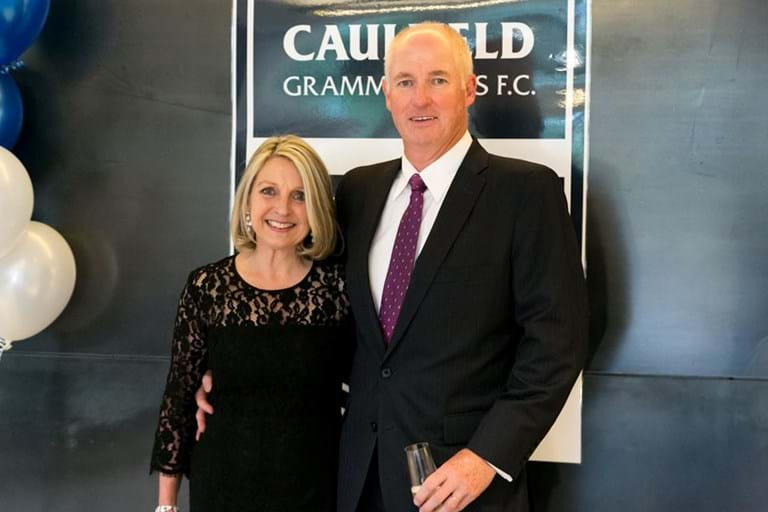 Being part of a football club means many things to different people. To me, the Club is a place where you can feel comfortable around your mates, where you learn a bit more about yourself, where you have fun, make lifelong friendships and become a better person. It is also a place that once you arrive, you never really leave.
When I took this role on 2 years ago, I didn't really know how much the CGFC meant to our broader community, or how many wonderful people we have in our midst.
Unfortunately, life marches on and over time, we lose people. This year has been no different and as a group, we toasted our absent friends at our last lunch against OGGS. There is, however, one person who I do want to pay special recognition to ; Liz Wilson. It is fantastic that Liz's daughter Louise has been able to join us tonight, to present the inaugural Liz Wilson medal to our Women's Best and Fairest player.
Finally, Liz and JA are united again, and will be forever, as our Under 19 Best and Fairest award is the JA Wilson medal – a fitting recognition for the contribution both have made to the CGFC and Amateur football in general. As a Club, we are proud of their legacy.
2017 has been a wonderful step in our history. Some of our key achievements have been;
Promotion back to B grade, our goal for the last 2 years,
A premiership for our Seconds team
A grand final appearance for our Seniors and Thirds
Premier grade involvement for our Women's (in their first season) and Under 19 teams
Players from the Club selected in their respective Teams of the Year and Representative teams
Three teams playing in their local netball competitions
Ongoing support from our Sponsors
A wonderful group of Coaches who have helped this Club recreate the environment we all want – positive and inclusive – where you can be your best, enjoy each others company and have fun.

Congratulations to all our winners tonight.
It is a team game but individuals do shine and it is appropriate we recognise their contribution on a night like this.
On a personal note, I want to thank all those who have helped this season – there are many and you know who you are – and to our Committee. You have done a wonderful job and this is a team effort, on and off field. It can't be allowed to be any other way. As we move to season 2018, we will need more help, B grade is another step up. Life is short so don't wait for tomorrow, we need you now!
As most of you will know, I have recommitted for 2018, and I am delighted to say so has Simon – so we are off and running. Work has already started around sponsorship and memberships, retention and recruitment, and preparing our strategy for the next 5 years. We also look ahead to our Centenary in 2020, and more will follow on that as the year progresses.
It is an exciting time to be at CGFC.
To the players who are thinking that maybe their time is up, think again. You are a long time retired and you might just miss out on something special at CGFC. I can feel it – so join me in making it happen. Dare to dream.
Finally, a big thank you to Hugo, Janee , Julia and all those involved in making this night so special. This is CGFC at its best.
Thank you.