Mid Season Review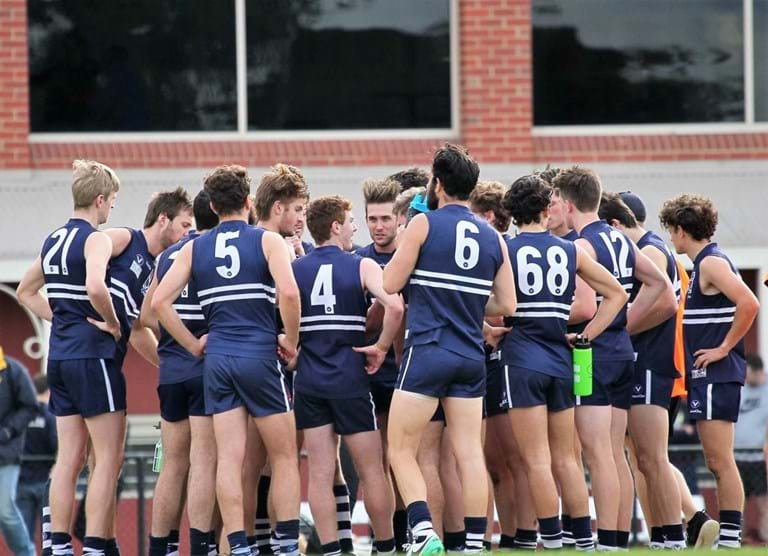 As we enter the mid season bye weekend for all representative football across the VAFA we thought it would be a good time to reflect on the seasons to date for all 5 of our football teams.
The season started off well for the club with the inclusion of a women's team into the inaugural VAFA women's competition and our Under 19's team being rewarded for back to back premierships by being elevated into Premier division.
Across the board each team has had their fair share of success this year and that combined with a strong off-field presence sees the future of CGFC looking very bright.
SENIORS-
The Senior group added some more depth to their list this season with the inclusions of big boys Matt Neratzoglou, Luke Thwaites and Jack Woodman joining us on a permanent basis whilst welcoming back veterans Nick Fallu and Ben Carboni for some more midfield grunt. Unfortunately both Luke and Ben have suffered season ending injuries but their experience and knowledge has been of benefit off field as well.
The season started well with a comprehensive 84 point victory against fellow top 4 side from last year Old Ivanhoe but a quick reality check against former B-grade side Haileybury who toppled the senior team by 83 points saw the boys quickly realise that this year was not going to be easy.
The Old Haileybury match may have been the wakeup call the boys needed as they have not missed a beat since that day and have gone on to beat every team including atoning for that loss by beating Old Haileybury only a couple of weeks ago. Despite their very impressive record of 10-1 season 2017 has not been without some minor speed humps. As is the case with amateur football the senior group (seniors and reserves) have had a number of players venture overseas for extended periods of time which has meant greater opportunities for Senior coach Simon Williams to blood new faces to senior football including school boy Lachie Harris and Under 19's Sam Dorevitch and Harry Schaffer as well as many deserved reserves players. Everyone who has come up to play senior football this year has had a genuine impact and it will only hold this team in good stead come finals time.
All in all the senior playing group would have to be very happy with where they are sitting heading into the back end of the season.
RESERVES-
The Reserves team entered the 2017 season with a new coach coach (Seb Gotch) and new Co-Captains Damian Hay & Rob Handel. After a strong pre-season it was clear that the reserves group would once again be strong with even greater depth than last year.
In Round 1 the reserves smashed Old Ivanhoe to the tune of 102 points and have not looked back since and now sit comfortably on top of the ladder with a win/loss record of 11-0, two games clear of second.
The reserves have faced some challenges themselves with a number of players leaving to travel overseas, this meant that once again there were opportunities for guys who had previously been playing thirds football to come up and take their chances in the reserves. Just like the seniors, each and every player who has played two's football this year has had an impact.
Selection is going to be tough once the pointy end of the season hits with some great players to come back in, this only means that each player will be working harder to maintain their spot.
The season so far has been very positive and hopefully the group can make a big impact come September.
THIRDS-
The thirds team welcomed back club legend and super coach Will Bowes for another year at the helm this season and he has the group playing some great football.
Thirds football is always hard as you often have players being pulled from your team to help out both seniors and reserves but coach Bowes has done a remarkable job keeping this group together and on track to have a crack and back to back flags.
Sitting second on the ladder with only 5 games to go means they are in a good position. The thirds have had two very narrow losses to both the first placed and second placed teams but are looking the goods each time they go out onto the field.
With up to 12 players to come back in to the seniors and reserves team in the next few weeks the thirds will be strengthened further and will be looking to go back to back.
UNDER 19'S-
After the departure of Josh Mcahon as Under 19's coach at the end of last season it was the committee's task of finding our next under's coach. Being the Under 19's coach is a job that is so important to any football club as it is this person who will groom our next generation into the players and people they wish to become.
Nathan Beaumont was appointed coach and to date has done a great job for our younger players.
The season started on a positive note as the group were elevated to the Premier division. Some thought we may have struggled against the powerhouse teams such as Xavier, Scotch, Beaumaris however this group of players have more than held their own in a very competitive competition.
Currently sitting 7th on the ladder with two impressive wins against arch rivals Parkdale and a fantastic 20 point win of last years premiers St.Kevins coach Nathan Beaumont is happy with how the team is tracking.
Nathan has been most impressed by the form and improvement of the first year players whilst those in their second season have shown great leadership throughout.
With a potentially easier run home anything is possible for this group.
WOMEN'S-
What a start to women's football it has been for this young CGFC team!
It was a long Pre-season for this group of women who first started training back in November and improved with every training session completed. For many, football was a sport that they had watched but never participated in so the excitement around the group was infectious from day one.
As the pre-season went by the skills developed, friendships were made and a team was formed under the watchful eye of head coach Guy Nelson.
Heading into their grading games it was the great unknown as to how they would perform under match conditions but our CGFC women blasted everyone off the park winning all four grading games to be put into Premier division in their very first year.
Premier division was always going to be tough but the women's team have started their campaign off well with 7 wins and are looking for a strong final three games to finish off their inaugural season with a finals berth.
Highlights so far from season 2017 have been:
-Their first ever match and win against Melbourne Uni
- Pink sports day which raised much needed funds for Breast Cancer Network Australia
-Three women being selected in the VAFA Big V squad of 30 (Millie Klingbeil, Grace Buchan and Irena Malliaris)
-Being able to honour our ANZACS in a special ANZAC Day match against De La Salle
Currently our women are sitting 5th on the ladder and only one game behind 3rd spot with three games to play.
I know the women would love to play finals but they can be extremely proud of what they have achieved so far this season and they have set some solid foundations for future Caulfield Grammarian Women for many years to come.
All in all it has been a hugely successful year to date for CGFC. It is now time for a week off to rest the bodies so that we are fresh and ready to hit the second half of the season with full steam in the hope we can collect 5 Premierships come seasons end.
Good luck and GO FIELDS!!