March Update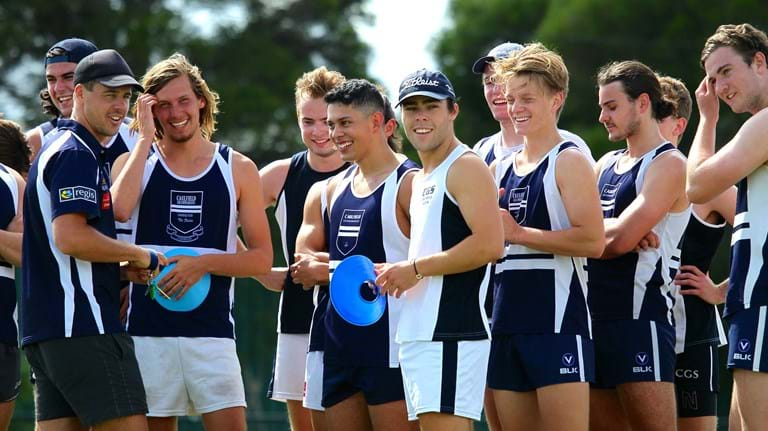 The fields are back! We are on the brink of another football season and it's time to bring you all up to speed with what has been happening, and what is coming up.
ON FIELD
Pre-season training commenced in late November and apart from a break over Christmas, the men and women of CGFC have been hard at it under the respective coaches Simon Williams and Guy Nelson.
What has been noticeable is the sense of purpose all the players have brought with them: for the men, a chance to take our Club to B grade; for the women, to represent the CGFC in the inaugural VAFA Women's competition.
Our playing lists are looking very strong with great excitement surrounding the development of our younger players, mixed together with our more seasoned group and the new recruits.
A quick look at the website(www.cgfc.com.au) will tell you that our first practice match is this week (v Kew at Garfield) , followed by two more practice matches before the season opener on the 8th of April. The women will also get their first hit out in the CGFC colours on April the 1st in a Lightning premiership.
OFF FIELD
Just as there has been plenty of activity on the track, your Committee and band of helpers have been active preparing for the season.
Keep an eye on the website for what is happening, but some key dates to get in your diary are;
Opening round luncheon lunch v Old Ivanhoe on the 8th April.
Trivia night at the Club on the 29th April.
As with all our events, RSVP and payment is simple on our CGFC website. Get in early so you don't miss out.
Throughout the season there will be a combination of lunches and afternoon teas. The canteen will be run again by the amazing Lesley Mudra, but we need HELP to provide the best level of service to our supporters. Please email or call Julia Small if you can assist (pjztj123@bigpond.net.au or 0417308823)
Thursday night player dinners will commence on 30 March at Glenhuntly – if you haven't been down come and show your support from 7.30pm. If you can assist again, please contact Julia.
COMMITTEE
All the Committee from 2016 have re-committed for 2017, together with our two new members in Rachael Cowdell and Robert Lyon. Their background is on the web and we look forward to their contribution over the season. Rachael and Rob will be focusing on women's sports and the under 19's team respectively.
MEMBERSHIPS
Don't just support the fields but be part of the club and sign up as a member. It is easy to join on our website. So come on and get your fields membership now!
This year we are also bringing back the President's club which provides many benefits. All details on the website. Contact James Nixon to see what this is all about.
There are several options of membership available for you;
White member
Blue member
Player Sponsor
Presidents Club
SPONSORS
I am delighted to advise that all our Sponsors have agreed to continue their relationship with CGFC for 2017.
You will have already heard about our two new sponsors for the women's team – Woodards and The Muesli – please support the sponsors that support the fields.
NETBALL
After a fantastic debut season in 2016 including a premiership, 2017 sees the CG netball field 3 teams in different competitions; White, Blue and Gold.
Look out for the results on the website and social media.
STAY IN TOUCH
As a club, we take seriously the need to update and engage with the whole Caulfield community. Stay in touch with the fields over our various communication platforms. Sign up to our weekly newsletters on our website, check the news section of our website, follow our CGFC page on Facebook, Instagram, Twitter and YouTube. Even if you can't make it to the game you can be involved.
We look forward to you being a part of the fields in 2017. Across the 5 teams it's going to be an exciting and historic season and we can't wait!
Go Fields!
Peter Small
President-Caulfield Grammarians Football Club