andrew spittal - He's Done It All!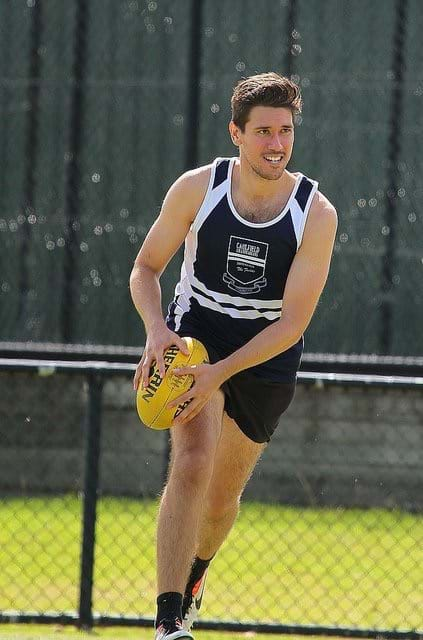 Andrew Spittal first walked through the blue doors of the Caulfield Grammarian Football club some 13 years ago as a 'skinny', raw, pimply faced 18 year old on the back of a schoolies trip to Byron Bay and little did he know then that he would go on to do it ALL at CGFC.
Andrew's story is a remarkable one.
He has always been a leader of people and was deservedly voted in as school captain at Caulfield in 2004 and was loved and respected by his peers.
At school spitts' played thirds football with the occasional game in the two's and as is the case with a lot of school kids the natural progression was to play football at CGFC once finishing VCE yet I'm not sure he would have ever thought he would outplay all his mates he first came to the club with way back in 2005 and go on to play 185 games to date.
Along the way Andrew has seen the highs and lows of amateur football, the wins, the losses, relegation and promotion and also been lucky enough to play in a Premiership. Every pre-season you can be assured that spitts will be there in some capacity with his booming voice showing the way.
Spitts' rise from thirds football at school to constant senior selection in 2014-15 was not through luck but through hard work, drive and a willingness to always be better.
As is the case with football there are always the nasty injuries and as durable as spitts has been he saw the nasty side of it all in 2015 when he tore his ACL at training forcing him to miss the rest of the 2015 and 2016 seasons. Determined to not allow his knee injury to defeat him he took it as a minor setback and along with great mate Luke Price decided he would take the opportunity to give back to the club and co-coach the reserves in season 2016 taking them to top spot on the ladder at seasons end.
Along the way Andrew has done it all at CGFC playing Under19's, thirds, reserves and seniors. He was a member of the senior leadership group, held the position of treasurer of the club for a period of time and was even MC at our Blue & White Ball in 2015, all of this is a testament to the type of person he is on and off the field, he is the epitome of a true Fieldsman!!
Last Saturday against Old Mentonians spitts returned to the senior team after more than two years between senior games and I sat with him to ask him a few questions about his time at CGFC.....
Aiden Clarke (AC)- Spitts, you did your knee over two years ago now, did you have doubts you would ever play again?
Andrew Spittal (AS)- Absolutely. I had no idea what to expect but just tried to tick each box as they came along.
AC-Once you decided you were going to play again was the end goal to always get back to playing senior footy?
AS- Not at all, the main goal was just to win games of footy and hopefully get a kick... 50% strike rate so far!
AC- You coached the reserves side last year with good mate and fellow CGFC teammate Luke Price, what did you take away from the experience?
AS-Mostly the motivation to win a flag this year. That prelim still hurts!! We did have a lot of fun though and we will still take all the credit in the 2's can win a final or two this year.
AC- Did you see the game differently and were you able to take anything from your year coaching and apply it to the way you play your football today?
AS- For sure. Prince and I learnt a lot from punchy and wiggers about how the game should be played. It's helped me to be more aware of the situation of the match and what is/isn't working well, rather than just focusing on my game.
AC- What was the hardest part of your rehab?
AS- The gym sessions. As you can see from my physique, it's not something i enjoy doing. Unlike yourself.....
AC- You first walked through the doors as a skinny 18 year old, did you ever envisage you would play over 150 games? and what have been some of the biggest changes you have seen at the club?
AS- Skinny? Definitely didn't plan on playing 150 games, quantity over quality unfortunately. We've seen a lot of highs and lows but the club has never been stronger as a whole than it is now.
AC- Greatest memories whilst playing at the club?
AS- Greatest memory so far was beating Uni Blacks to avoid relegation in 2014 in prince's 150th. Under 19's was also a bit of fun back in the 1980's
AC- What would you say is your greatest on-field asset?
AS- Pretty proud of my sledging skills....although too old for that now
AC- You have pretty much done it all at CGFC from being in the leadership group, treasurer of the club, MC at the Blue & White ball, stand up roasts of your mates, 185 games in all sides and all round cult hero.....what's next, is Peter Small in danger?
AS- No thanks, Pete can have that job!!
AC- Thanks mate and congratulations on a wonderful career so far both on and off the field for our great club.
When asked about Andrew, senior coach Simon Williams had this to say.
"Spitts has worked hard this year coming back from a knee reconstruction and a year off. From the outset you could see his commitment and determination. Great communicator both on and off the field providing leadership. He broke into the side on the back of some solid form and great use of the footy. A great reward for a true Fieldsman!!"
It has been great to see Spitts develop as a footballer across 13 years at the club through serious hard work. He is loved by every one of his teammates and fellow club men and women and here's hoping you can add another premiership to your tally again this year.