Fields March Update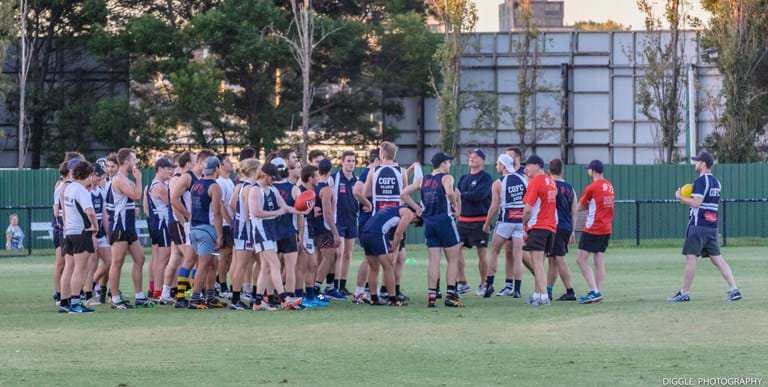 Season 2018 will provide the opportunity for over 200 players to represent the CGFC and affiliated Netball club in various competitions around metropolitan Melbourne.
After two years of hard work, the effort payed off last September when the Senior men's team won promotion to B grade in the VAFA. This represents an exciting chance for us to showcase to the competition out collective talents. We will also field Senior Seconds and Thirds, two Women's teams (Premier Section), an Under 19 team also in Premier Section and four Netball teams in various metropolitan competitions. This is an outstanding effort from all associated with the Club in general, and shows the strength of the Club and its supporters, sponsors and members.
I would ask that you take the chance to view our website, www.cgfc.com.au which contains all the information you need, to follow what is happening at CGFC. It showcases who our wonderful sponsors are, the events coming up, how to book, merchandise, new membership and player sponsor forms, history of the Club and through the season, results of all teams. Our social media is always exciting to follow also so make sure you are connected to CGFC via Facebook, Instagram and Twitter.
For Season 2018, we have adopted a set of Values which will guide us through this year and beyond. These are;
Being SUPPORTIVE to our friends, team mates, coaches and family.
Being RESPECTFUL to those around us and treat them as you would want to be treated.
Being SELFLESS in how we act and celebrate others' success
Being INCLUSIVE in what we do and how we behave
Being RELENTLESS in our pursuit to be the best we can be.
Throughout the last two years we have worked hard to further develop the relationship with the School, through the Kellaway Club and the School football program. This year will see increased connection and sharing of information between us, so that for our young men and women there will be a clear path for their football and netball post School. Some activities will include the teams training at the same ground to enhance connection, senior players assisting where appropriate, the ASH Cup on 27 March at Glenhuntly (School v Under 19 CGFC) and School girls' matches being played before our Senior Women on Saturdays.
During the off season, our recruiting team worked hard to attract many new faces to the Club, and the First game teams and debutants will be showcased at our Season Launch on 5 April at Glenhuntly from 6.30pm. Please see the website for details and rsvp. It will be a great night at our home to kick off the season in style – a little celebration of our Reserves Premiership 2017 might also be in order!
Also be at Glenhuntly for our opening round on Saturday 7th April. Will be a big day with our reserves flag unfurling and the Seniors taking on Old Carey in our first game back in Premier B. From midday we will have our Opening Round luncheon and we would love to see all the fields faithful there to celebrate the start of the season.ook your ticket now on our website.
We have also added to our Coaching Panel under the guidance of Head Coach, Simon Williams. Now in his third year, Simon has been instrumental in creating the positive environment we now have throughout the Club with his passion and team behind him.
Similarly, Guy Nelson in charge of the Women's program has developed such a positive culture whereby we are attracting more players all the time, so the concept of two teams has become a reality. Our practise games have now commenced with some great hitouts for our teams.
This gives me the confidence that as President, together we can take this Club from GOOD to GREAT. But we need you to get on board, so buy a membership and part of CGFC. Join now at cgfc.com.au/membership
Look forward to seeing you at the game!
Peter Small
President
Caulfield Grammarians Football Club