Fields LEGENDS NAMED Don Wirth MedaLLISTS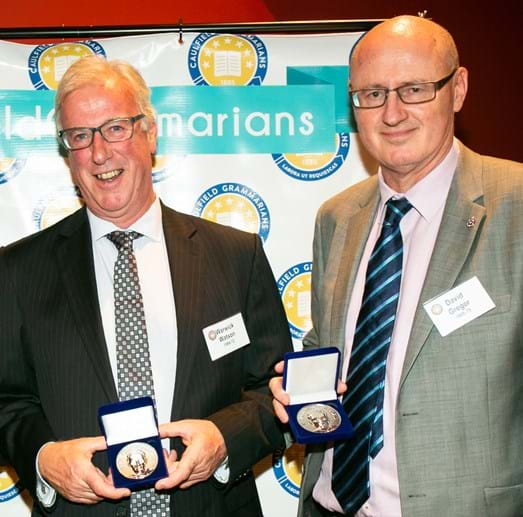 Congratulations to David Gregor and Warwick Watson who were both announced as Don Wirth Medallists at last Friday's Founder's Day Dinner.

David has been an integral part of the fabric of the Caulfield Grammarians Football Club, on and off the field, for more than 25 years. Most recently he has made a significant contribution as Team Manager of the Under 19 programme and CGFC club secretary. David played more than 150 games for CGFC between 1979 and 1991, including a Premiership in 1981. He is a Life Member of the Club and has served on the CGFC Committee as a member and Secretary for more than a decade. Of recent times, David has been instrumental in the enhanced relationship between the School and the Club, working with the School football team to ensure the Club's ongoing participation in the ASH Cup, the annual contest of CGFC's Under 19's and School First XVIII. David works tirelessly around the club, represents CGFC at countless VAFA functions and deals with all the issues that are the domain of the Secretary. Without people like David, the Football club would not have achieved the success it has, and this includes two Under 19 Premierships in 2015 and 2016. David's contribution to the football club and the CGA has been enduring, valuable and enormously appreciated.

Warwick played 206 games between 1973 and 1987, and post his playing days was involved in the administration of the Club for more than 12 years, and took on and delivered the onerous task of compiling and cataloguing much of the history now displayed on the Club's website. Off the field he has held the roles of committee member, club treasurer and President and on the field his accolades include Best and fairest winner in 1979, Club captain in 1980, Runner up in VAFA B grade best and fairest in 1982, Member of the C grade premiership side in 1983 and was awarded CGFC life membership in 1987. As Club President he was a tireless worker covering all aspects of the Club including sponsorship, membership, game day luncheons, bar management, VAFA liaison and the profile of CGFC, connection with the Caulfield Grammar football program, history on the website as mentioned and the financial consolidation of the Club.

We congratulate these two legendary Fieldsmen on receiving this well-deserved accolade, both whom were unanimously endorsed by the Awards Committee and the CGA Committee as outstanding servants of the CGA.