2018 in Review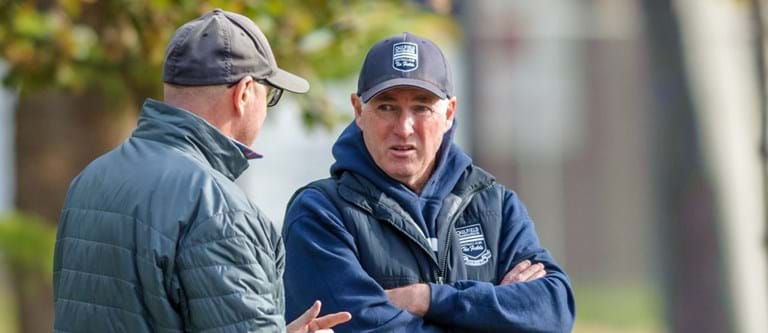 2018 started with much optimism around the Club.
Elevation to B grade for the Senior Men's teams ; a second year in Premier for the Under 19's ; and the introduction of our Women's Reserves team.
Six teams, 10 Coaches and over 170 players were set to represent CGFC. Add to this our 4 Netball teams and around 40 players. Collectively, we carried the CGFC name with pride and purpose. As a group, we represent a significant number of past students and the CGA.
The Club is, in my view, well prepared for what lies ahead. We are strong on field and off field, although we are always looking to improve. Additional players will be recruited (as we seen already in a very busy off season), our current list will get stronger and more off field help will be sought to remain competitive in our environment. The message for our supporter group is "If you think you can help by just doing one thing, we want to hear from you!" We will never stop striving to be better, and nor should we.
Our relationships with our Sponsors, supporters, The School, City of Glen Eira and our wider community are vital for our success, and a strong focus will be placed in these areas over the coming years. It has been really pleasing to see how the School Football Coaches and Program have come together with the CGFC to provide meaningful pathways and opportunities for our younger players. This is vital for our long term success of both our Women's and Men's football teams, and Netball.
We are about to commence our 5 year planning exercise to build our Club, and to understand what we need to do to provide the type of football and netball club that our current day students want to be part of. They are our future, and we need to embrace them. To this end, we have been supported by the VAFA who have provided a template for Clubs to use in the preparation and delivery of the Plan. As we know, "without a plan, any road will get you to where you are going". This will be a key deliverable in 2019 and one which must embrace the thoughts of many.
In 2020 CGFC will have its Centenary year – what a proud moment this will be in our history. How good would it be to have all our teams playing in the highest grade possible? We have two there already and with the work done this year, a return to A grade for the men is a goal for us. And it is the 50th year since our A grade flag – the planets are aligning! Plans will commence on the social aspects of this event shortly with a Special Purpose Committee established to lead discussions and decisions.
Throughout the year the Club has sought to have a number of functions where our players, supporters and Sponsors can get together to enjoy each others company. They have been very enjoyable evenings, and with our goal to "have fun", they are a critical element of what makes this Club a destination for many. Culture takes a long time to build and a moment to lose – we must use our collective strength to retain what we have built. The Thursday night dinners with Tim Cox proved to be one of the years highlights, as were the Mum's and Dad's evenings.
A key for the coming year will be galvanising the energy and support of our past players. This is an area that, in my view, has been partly successful but more can and will be done. With the opportunity to utilise the upstairs on a Thursday night next year, this gives the Club a great chance to engage with this group.
We recently concluded our season at the Best and Fairest Ball. I want to congratulate all the players for their contribution to CGFC in 2018, and to the winners of the individual awards. We play a team game, but recognition of excellent performance is appropriate.
Three of our teams played in Finals action in 2018;
Our Senior Men's team who fought it out with University Blacks in the First semi under difficult circumstances with some significant injuries on the day.
Our Under 19 team who played Finals in Premier for the first time in our history, losing narrowly to Old Xavs in the first semi
Our Women's Reserves team who also made it through to the First Semi, losing to Fitzroy by 15 points.
The Club also recognises the efforts of;
Tim Nixon, VAFA B – D Grade Representative Captain ; Best On Ground; 3rd in the League Best and Fairest
Isaac Morrisby, Runner up in Under 19 Premier League Best and fairest
Simon Williams, Coach of the Year , B Grade.
Matt Ball, Leading goal kicker B grade Reserves ; 37 goals.
There are also some farewells we need to say;
Guy Nelson, our inaugural Women's Coach ; Guy, your legacy will be felt for years to come
Nathan Beaumont, Under 19 Coach who guided his team to the finals in Premier for the first time in our history
Stuart Wigney, our Assistant coach in the Men's program – great support to Simon and who was able to bring his AFL experience and insight to our Club.
Our retiring Committee members ; thank you for all you have done.
With departures come arrivals;
Patrick Kennedy, our new Under 19 Coach
A new Women's coach (tba)
Kate McClelland and Vanessa Smith – Merchandise
James Nixon – Player List Manager
To all our wonderful volunteers – this Club cannot function without you. Your tireless efforts do not go unnoticed ; we do need more hands next season and a strategy is underway to generate a larger CGFC army.
And finally, to Stephen Newton and now Ashleigh Martin, we thank you for your guidance and support as Co-Patrons of our Football Club.
The relationship between the School and CGFC has never been stronger, with the Coaches sharing information, training and playing information. The sight of the School team training before the Under19's at Glenhuntly Oval is a sign to the future. The ongoing ability of the CGFC players to use the School facilities for pre-season training provides us a clear advantage of other VAFA teams, and we all look forward to a dip in the pool in late 2019!
Although it feels like the season has only just finished, pre-season training starts on 3 December. The playing group, and we have had a strong retention of last season's playing list, together with our new recruits (School leavers will join us later) will prepare for next year ; aspirations high.
It has again been a privilege to be President of CGFC in 2018 and subject to the wishes of the Members, I have offered to be President again in 2019. It is important however to plan for transition, as in my view, change done well leads to new energy and thought. Next year will be an important one as we need to identify the next President who can take this Club in to its 100th year.
Thank you.
Go fields.
Peter Small
President CGFC